THE DIABETES COALITION OF PALM BEACH COUNTY
We are a voluntary nonprofit alliance of over 50 health care organizations and community partners working together to prevent diabetes and improve the lives of people living with the disease, and those touched by it through awareness, education, advocacy, and access to care.
We believe it's important to go where people already are, in their own communities. Outreach, diabetes risk screenings, and educational services extend across Palm Beach County, from Jupiter to Boca Raton, and out to the Glades. While the Coalition's services are available to all, understanding that diabetes and prediabetes disproportionately affect historically underserved communities and the most vulnerable among us, our targeted outreach efforts will focus on those neighborhoods most in need.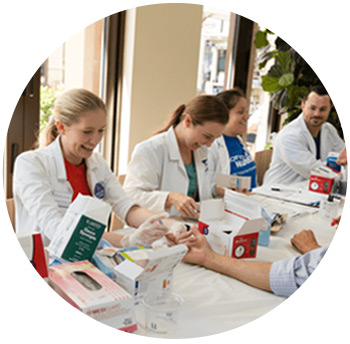 OUR VISION
Our vision is to have Palm Beach County recognized as a national model for controlling and preventing the incidence of diabetes.
LEADING THE WAY THROUGH...
Awareness
Education
Advocacy
Access To Care
Strong Community Support
FREE Screening Events!
THE MANY FACES OF DIABETES
IN THE SPOTLIGHT
Diabetes Self-Management Classes Are Virtual -- Registration Now Open
Take Charge of Your Diabetes!
In partnership with the YMCA of South Palm Beach County, the Diabetes Coalition offers six-week, evidenced-based Diabetes Self-Management classes. Classes are currently offered virtually, at no cost, and are open to anyone who has diabetes or prediabetes and their family members. Class size remains small to allow for in-depth discussions, group support, establishment of personal goals, and learning specific strategies to control and address individual needs.
Screening & Education Events in the COVID-19 Environment
Recognizing the Coalition would need more stringent screening procedures for future in-person events, working in tandem with Medical Advisor, Dr. Fernando Vazquez, we developed and instituted specific protocols that adhere to all CDC, state, and county mandates.
We are extremely proud that within the existing COVID-19 environment we have been able to safely hold onsite diabetes risk screening and educational events, which have included screenings at churches both in Belle Glade and Boca Raton, the Delray Beach Community Center, Delray Medical and Dental, Villa Franciscan Senior Apartment Community – Riviera Beach, and the YMCA at Boca and Boynton Beach locations. All screening events are now smaller and strict adherence to COVID-19 requirements and health biomarker testing procedures are continually monitored.
If you or your organization is interested in learning more about our diabetes screening and educational events and other initiatives, or would be interested in hosting or sponsoring an event, please contact Debby Walters at: debby@diabetescoalitionpbc.org
UPCOMING EVENTS
Come join us at one of our next events!
OTHERS ARE SAYING...

"The machine is so much easier to use. Thank you and your affiliates so very much for what you all do. I am doing well and doing so much better with my food choices since I attended the classes on diabetes. Should you plan on having more classes in the Glades please let me know."

"Thank you so much for your support of all of the students who are navigating school with diabetes on board. Thank you again for all that you do to educate and unite our local community!"
HAVE QUESTIONS OR NEED HELP? CONTACT US.
Serving as the "community connector" for individuals and families living with, or at risk for developing diabetes.